← Stab Resistant Vests Critical For Hospital Security Professionals 对医院专业安保专业人员至关重要的防刺背心 Highlights Of A Truly Informative Police Body Armor Survey→
真正的警用防弹衣信息调查要点 The World's First Slash Resistant Combat Shirt 世界上第一款防割伤作战衣 Posted on 25/11/2015 by Robert Kaiser 罗伯特·凯撒 发布于2015.11.25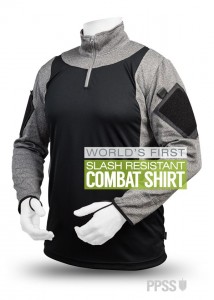 Today, PPSS Group has officially launched "The World's First Cut & Slash Resistant UBAC Shirt", offering a truly outstanding level of cut protection to all key arteries remaining 'unguarded' even whilst wearing the most modern type of bullet resistant vests or stab resistant vests.
如今,PPSS集团已正式推出的"世界第一款防切割防弹(UBAC)作战衣",对于即使身穿最现代化的防弹背心或防刺背心的同时也保护不了全部的关键动脉,然而它却能对其实施严密有效的保护。

UBAC (Under Body Armour Combat) shirts are usually being manufactured using a range of specialist materials, including lightweight, moisture wicking and breathable fabric. UBAC shirts are usually worn alongside the very latest in body armour systems, assault clothing and webbing, providing an outstanding combination of protection, comfort and durability. UBAC shirts can feature several benefits e.g. adjustable cuffs, velcro straps, zipper necks, padded arms and more.
UBAC(防弹作战)衬衣通常是由一众多的专业材质:包括轻量级的、吸湿排汗且透气的织物制造而成的。UBAC衬衣通常穿在最靠近护身防弹衣系统、攻击型服装和织物的旁边,可加强保护和耐用功能,提高舒适度。UBAC衬衣有以下几个优点:袖口大小可调节、尼龙锁牢带、脖子处带有拉链、护臂袖等。
Our slash resistant UBAC shirt is different and offers truly exceptional cut protection around the entire arm area, side of torso, neck and throat area, protecting the following four key arteries from laceration, subsequent rapid blood loss… and potential subsequent death:
此款防割伤作战(UBAC)衣与众不同,它可以特别地保护整个手臂、身体侧部、颈部和喉部,防止切割,保护以下四个主动脉不被割破,防止失血过快和避免因此造成的死亡。
1. The radial artery can be found in our wrists, which often is subject to cuts during self-defence, knife fights or whilst protecting our face (such wounds are defined as 'defensive wounds' and could become part of the evidence gathering when claiming 'self-defence). It is also the most commonly cut artery during any 'forced entry operation'.
桡动脉位于我们的手腕处,经常会在自我防卫、持刀打斗或者用手腕保护面部(这些伤口称为'防守伤口',可以作为自卫的重要证据)时割伤。这也是任何'强迫行为'中最常见的割破动脉的情况。
2. The brachial artery is located alongside your bicep. This is also a likely artery to be cut during a knife attack and defence.
肱动脉位于二头肌旁边。这也是在持刀打斗和防卫过程中可能被割伤的动脉。
3. The carotid artery is maybe the best known artery and is located in your throat. It is certainly the artery most featured in many typical Hollywood action blockbuster. A cut through of the carotid artery would most likely result in death.
颈动脉或许是大家最熟悉的动脉,位于喉部。颈动脉必然出现在很多典型的好莱坞大片中。刺伤颈动脉是最可能致命的。
4. The axillary artery is located under your arm pits, beginning at the lateral border of the first rib. Anyone sliding an edged weapon under your arm pits and pulling on that weapon is most likely going to injure or cut this artery. This would lead to rapid blood loss and potentially in death. To stop the bleeding in such case is exceptionally difficult and often impossible.
腋动脉位于腋窝下,始于第一个肋骨外侧边缘处。将带刃的武器置于腋下并拉动武器,很有可能损伤或者割伤腋动脉。这会造成快速失血,并很有可能导致死亡,这种情况下很难且不可能止血。
Please view our technical product specification sheet for further details: click here
详情请见我们的技术产品规格表:请点击这里
We have also produced a very simple and brief video highlighting its performance:
我们还制作了一个简短的视频以讲述其主要性能。
This newly designed cut and slash resistant UBAC shirt made by PPSS Group also feature two upper arm pockets (for small notepad and pens) with Velcro for rank patches, blood patches, insignia or other attachments, as well as thumb loops to keep the sleeves in place.
PPSS集团新近设计的防切割UBAC衬衣上臂处还有两个口袋(可装笔和笔记本),并带有尼龙锁牢带,可粘一些军衔、功绩和荣誉的徽章等,以及拇指环以固定袖子。
Here are three close-up images highlighting the exceptional manufacturing quality.
下列是这款衬衣精细制作工艺质量的三幅特写近景图片。
This new slash resistant UBAC shirt will without any question help save the lives of many law enforcement, prison and private security officers all over the world… and that's precisely what drives us… it is exactly what we are passionate about… it is the very essence of what PPSS Group as a company stands for.
此款新防割伤作战UBAC衬衣必将拯救世界上很多执法部门、监狱和私人安保人员的生命……这正是我们的动力所在……我们的激情所在……这是PPSS集团作为一家公司的真正内涵。
Our mission statement is very precise: "Protecting Frontline Professionals from Human Threats", and our newly designed slash resistant UBAC shirt will do exactly that!
我们的宗旨非常准确:"保卫前线专业人士免受人类威胁",新近设计的防割伤UBAC衬衣就是为此而生!
If you are a homeland security professional wearing a body armour… you have either established a certain risk or you are at least aware of a certain risk. I don't believe this risk is limited to the torso only… I am sure the key arteries you can find in your arms and throat are exposed to just the same risk.
倘若您是一名保卫祖国安全的专业人士,身着护身防弹衣……您要么已经处于一定的风险或者您至少意识到了某种风险。我相信这个风险不仅是躯干本身……我确定您在手臂和喉咙处均可找到的主动脉也暴露在同样的风险之中。
Recent attacks on Israeli police officers and military personnel have highlighted a real need for this new garment design, and injuries as per the following images, received during a force entry operation in a different country (not Israel), also highlight the risk of accidental injuries:
最近,对以色列警察和武装人员的攻击更加表明对这种新型服装设计的真正需求,根据下列图片中的伤病是在异国(非以色列)强迫行为中所受,这些伤病也表明了意外伤害的风险。
A typical cut injury, which could have been prevented if this person would be issued with the world's first slash resistant UBAC shirt.
如果一个人发有世界上第一的防割伤UBAC衬衣,他本可以避免典型的割伤。
The following statement following a forced entry operation on the 25th April 2013, was made by Williamson Police in West Virginia, USA, but is not related to above image: "Only one officer sustained injuries when authorities conducted a forced entry into a home. The officer accidentally cut himself while entering the home."
下列声明是由美国西佛吉尼亚州的威廉姆森警察于2013年4月25日在某次强迫行为之后发出的,与上述的图片无关:"当局强行进入一个家庭时只有一名警察受伤。这名警察是在进门时不小心割伤自己。"
I have access to countless of images featuring injuries sustained during an edged weapon attack, most of which are too graphic to highlight in my article, but the following gives us an indication what can happen when protected inadequately.
我可以获得无数在刃器攻击中受伤的图片,文中大部分图片都比较露骨,但下列这张将会告诉我们在没有受到充分保护时会发生的事情。
even when wearing a top quality body armour… this injury would have not been prevented because the neck/throat area will remain unprotected and exposed. Our latest slash resistant UBAC shirt would successfully prevent such injury and reduce the risk of rapid blood loss and even death.
即使身着高质量的护身防弹衣……也会受这种伤,因为颈部或喉部仍没有得到保护,暴露在外面。我们最新的防割伤UBCA衬衣将成功防止此类伤害,降低失血过快甚至死亡的风险。
We all need to accept that injuries sustained from a bladed attack (or due to an operational accident) can cause long term damage as well as just the physical injury. Slash and cut injuries can often lead to long lasting emotional scars, ongoing distress or in very serious cases even post-traumatic stress disorder (PTSD). This may lead to an extended period of loss of work or employment putting an extra financial strain on the victim as well as the required physical recovery time from the medical procedures.
我们都需要明白,刀刃袭击中受的伤(或由于操作事故)可能导致长期的伤害和物理性损伤。切割伤通常会导致长期的精神伤疤、持续痛苦,甚至更严重的创伤后紧张症(PTSD)。这可能导致长期的失业,进而对受害者造成进一步的经济压力和要求的就医流程身体恢复时间。
Please also read my article: "Slash Resistant Clothing for Homeland Security Professionals" (click here) offering additional information, different product images, news snips and very graphic photographs of cut/slash injuries. All of our slash resistant garments… including our new UBAC shirt offer the following levels of protection:
请阅读我另一篇文章:"保卫祖国安全专业人士防割伤服"(请点击这里),提供切割伤的其他信息、不同的产品图片、新剪影和非常形象的照片。我们所有的防割伤服……包括新版UBAC衬衣提供下列级别的保护。
§ ISO 13997:1999 Blade Cut Resistance Level 5 – the highest possible
§ ASTM F-1790-05 Blade Cut Resistance Level 4
§ EN 388:2003 Blade Cut Resistance level 5 – the highest possible
§ EN 388:2003 Tear Resistance Level 4 – the highest possible
§ EN 388:2003 Abrasion Resistance Level 4 – the highest possible
§ ISO 13997:1999防刀片割伤5级–最有可能
§ ASTM F-1790-05防刀片割伤4级 -最高等级
§ EN 388:2003防刀片割伤5级 -最高等级
§ EN 388:2003防撕裂4级 -最高等级
§ EN 388:2003防磨损4级 – 最高等级